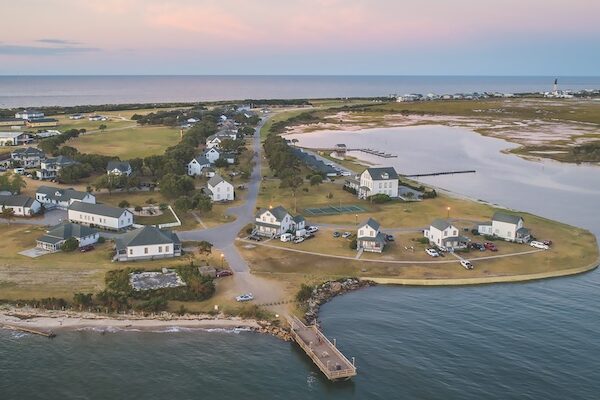 "Exactly what is this place and who is it for?"
Fort Caswell is a retreat and conference center, and we'd love to chat with you about your next visit!
Rates: For up-to-date information on our rates, call M-F, 8am-5pm (910) 278-9501.
How Can I Visit Fort Caswell?
There are two primary ways to plan a visit with us:
Plan Your Own Visit
We invite you to review the information on this page, and when ready, give our reservations specialists a call to book a reservation or get your detailed questions answered. They're great at helping you plan your ideal retreat.
Our office is open Monday to Friday from 8:00am to 5:00pm.
Fort Caswell Programs
We develop different programs in-house, and you are welcome to invite your group to join us! We offer programs with different lengths and for different age groups. Be sure to see which events are a good fit and register when you're ready. Whichever one you pick, we'll handle the logistics so you can focus on the reason you're coming!
Lodging, Meals, and Fee Information.
Lantana Lodge
Lantana is premium lodging designed for adult groups.
Smith Conference Center
Smith Conference Center features rooms with all the amenities you'd expect from a modern hotel (aside from TVs) with great accessibility and scenic views. It also features meeting spaces for breaks and social gathering areas like the great room and a signature outdoor patio.
Hotels
Turn-of-the-century Officers Quarters, each Hotel features private guest rooms with private baths with a maximum of 4 people per room.
Our Hotels include:
Driftwood – 9 Rooms
Oleander – 9 Rooms
Palmetto – 9 Rooms
Fort Caswell – 10 Rooms
Oceana Motel
Immediately adjacent to Caswell boat basin, Oceana Motel is our only ground level guest accommodation. Oceana has a maximum of 4 people per room and is not available for youth summer reservations.
Cottages
Includes kitchen and dining facilities for groups. Fort Caswell provides basic cooking utensils only. Linens and all other necessities must be provided by guests.*
Cottages have a minimum and maximum number of guests for registration, and the figures for each are listed below.
Our Cottages:
Gingko – 16 min./32 max.
Paradise – 22 min./30 max.
Redwine – 32 min./44 max.
Riverside A – 6 min./12 max.
Riverside B – 6 min./12 max.
Riverside C – 8 min./14 max.
Riverside D – 8 min./14 max.
Riverside E – 8 min./14 max.
Yaupon – 12 min./22 max.
Sandpiper – 65 min./116 max.
Sand Dune – 16 min./24 max.
Seashell – 12 min./22 max.
Yucca – 32 min./50 max.
Residences
Dormitory-style housing. Linens, towels, pillows, and all other necessities must be provided by guests.*
Our Residences:
Live Oak – 14 min./28 max.
Sea Oats – 16 min./32 max.
Atlantic – 16 min./32 max.
Long Bay – 165 max.
Pelican – 35 min./52 max.
Seagull – 35min./52 max.
Barracks
Guests must bring their own linens, towels, pillows, and other necessities. Boys' & Girls' Barracks both have a 50 person minimum for each building. Paper towels and hand soap are not provided in the restrooms at the Barracks.
Meals
Breakfast, Lunch, and Dinner available. Inquire for rates.
Other Fees
There is a day guest fee of $5.00 per person per day.
There is a one-time use fee of $5.00 per person for all groups using any classroom or meeting space.
*Linens
For our guests staying in Cottages or Residence buildings who would prefer to have linens provided, Fort Caswell can do so for a $5.00 fee, per person, per night, if requests are made prior to your event.
Children
Children ages 2 to 5 years old are charged half price for rooms and meals.
See rates for pricing.
Children under 2 stay free.
Fort Caswell has a variety of meeting spaces including:
24 classrooms with a capacity of up to 30
4 classrooms with a capacity of up to 60
4 classrooms with a capacity of up to 150
Sherrill Chapel with a capacity of up to 200
Hatch Auditorium for groups of 300 to 1,000
Audiovisual equipment is available for meeting rooms when requested in advance. An additional fee will be charged for room arrangements other than basic tables and chairs and for last-minute changes.
Not sure what your group will need? Our reservations staff can help! Share your group's needs with us we will find the perfect spot for what you need to do, including outdoor locations if the event you're planning calls for it. Call us for information. (910) 278-9501.
Fort and Batteries: Fort Caswell (Civil War Fort) and the adjacent batteries (World War I era) are available for our guests to explore. Guests may enjoy them at their own risk during the daylight hours only and children must be supervised.
Beach & Beach Swimming: Guests enjoy watching ships entering and leaving the Cape Fear River on this active shipping channel into the ports at Wilmington and Sunny Point Military Ocean Terminal. The busy river is therefore not a safe swimming area. The mile of secluded beach has a designated safe swimming area with a boardwalk to cross the dunes. The beach has lifeguards only during the summer months. All other months are "swim at your own risk." Great shelling, bird watching, and beach walking are all within sight of the Oak Island Lighthouse.
Swimming Pool: Open from mid-May through mid-September, weather permitting.
Marina:** Offers boat ramp, boat slips, and direct access to Cape Fear and Elizabeth Rivers (and from there to the Intracoastal Waterway or the Atlantic Ocean). Overnight guests may dock their boats in Caswell's boat basin for $10.00 per day. Electric and water hookups are available for an additional $5.00 per day. Larger boats may wish to use the nearby Wildlife (larger) boat ramp to put in and use Fort Caswell to tie up and dock! 
Year-Round Classic Recreation: Indoor gym · Outdoor volleyball · Disc Golf Course · Horseshoes  · Tennis Court* Fishing pier* · Surf fishing* · Mini-golf (18 hole)** · Paved streets for walking or rollerblading*
First Aid: Guests may obtain medical care through local medical facilities. Guests needing medical assistance are asked to contact Fort Caswell staff at the office or gate before seeking medical help.
Kayaks:** May be available for groups in the late spring and early fall based on availability and weather conditions.
Initiative Course:** Promotes effective interpersonal and team-related skills, aids in developing Christian leadership skills, and strengthens the ministry of both individuals and groups. This is an additional cost service and must be scheduled two weeks prior to your visit.
Camping: Fort Caswell does not have facilities for tent camping, travel trailers, or motor homes.
* Bring your own equipment ** Additional Cost item
Questions? Call our Reservations staff during office hours (M-F, 8:00am — 5:00pm): (910) 278-9501