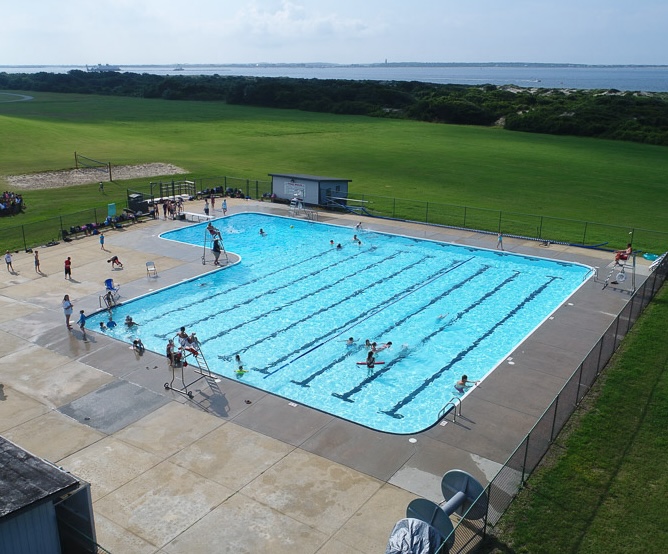 Incredible Swim Opportunities and Lessons for the Community.
The information provided on this page was for the 2023 swim season and remains viewable for reference only. Please check back in early 2024 for updated information.
Fort Caswell offers summer swim programs for all ages. American Red Cross Certified instructors and lifeguards teach all classes. Space is limited in the classes, so register early by downloading the 2023 registration form when it is available, or calling Fort Caswell at (910) 278-9501. A minimum registration of 6 students per class is required.
A one-time, non-refundable registration fee of $25 per participant per week must be paid at the time of registration. This fee will be applied to the weekly class fee of
$50.
CLICK HERE to register, starting April 3, 2023
Information on Our Swim Classes
We offer group swim classes.
We teach water babies through adult classes.
We accept children from age 6 months and older.
Each of our instructors is trained to engage all students throughout the lesson so that they will meet the ultimate goal of learning to swim.
The cost of all lessons is $50 (a $25 non-refundable deposit is required at signup that will apply toward the $50 total).
We will cancel lessons for inclement weather or unsafe conditions.
Fort Caswell reserves the right to cancel a class if there are less than 6 participants enrolled.
All changes need to be made two weeks before the class starts, or you will be charged for your child's swimming spot.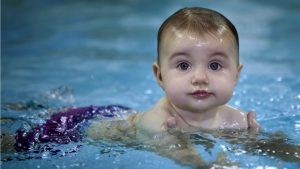 Water Babies/Preschool Swim Lessons
During water babies/preschool swim classes, the child interacts with a special adult (Mom, Dad, Grandparent, Aunt, Uncle, or Guardian). These classes will provide a positive experience for the child and adult together in the water. The child must have good head and neck control. Children who are not toilet trained must wear plastic pants or swim diapers. An adult must accompany the child in the water during these classes.
Child Swim Lessons
A certified instructor will teach a 45-minute class for children ages 5 to 14. Children will be grouped by swimming skill levels. The Aquatic Program and the American Red Cross offers Seven Levels of Swim Lessons:
Star Fish (Level 1) For Beginners: Swimmers will be taught to submerge, kick on front and back, float, and alternate arms for the crawl stroke. Starfish will not use the deep end of the pool for any instruction. This is an introduction to water skills to help students feel comfortable in the water and to enjoy the water safely.
Stingray (Level 2) Primary Skills: Submerge head under water, learn rhythmic breathing, flutter kick, and work on front and back crawl. Deep water is introduced.
Swordfish (Level 3) This class builds on the skills learned in level 2 with additional guided practice. Stoke Readiness: Back crawl, front crawl, and elementary backstroke introduced. Treading in deep water introduced.
Marlin (Level 4) Stroke Development: Deep-water swimming, long distance, and breaststroke; sidestroke introduced.
Dolphin (Level 5) Stroke refinement provides further coordination and refinement of strokes so students will swim them with ease, efficiency, power, and smoothness over greater distances.
Shark (Levels 6 and 7) Advance Swimming: Deep-water swimming, lap swimming of stroke already learned. Learn Butterfly stroke and increase long distance swimming.
Personal Water Safety
Lifeguard Readiness
Fitness Swimming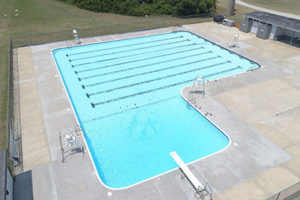 Stroke Development Class
The purpose of this class is to help young swimmers become more proficient in their strokes.
Prerequisite for this class: swimmer must be able to swim the length of the pool.
Adult Learn to Swim
These classes will provide a positive experience for adults at all levels of ability.
Questions? Call: (910) 278-9501